VILLA KOSTA ILIOS | MYKONOS VILLA RENTAL
VILLA KOSTA ILIOS
SUNSET VIEWS | PRIVATE BEACH ACCESS | INFINITY POOL
SPECIAL PROPERTY CONDITIONS
CHILDREN POLICY: Allowed
MHTE: 1173K10000933801
Kosta Ilios is a large private property located in an unrivalled position just a few steps away from the Aegean sea. Situated in the area of Aleomandra is assures front-row views over the island of Delos and the spectacular sunsets as well as being conveniently located in comparison to Mykonos Town which is just a five-minute drive away. Kosta Ilios also enjoys the unique feat of having access to a small private beach just below the property, perfect for morning dips or getting away from the busier beaches of the island.
The outdoor spaces of Kosta Ilios embrace the true spirit of summer life as they allow to live each moment of the days in total comfort through an array of sitting areas and two distinct dining/lounge areas both featuring fully-equipped outdoor kitchens. The first is located just outside the main house's kitchen where a beautiful olive tree accompanies an elegant dining table and lounge area. The second is accessed through the vivacious garden and enjoys a waterfront position next to the property's large private pool. A pergola covers an airy dining and lounging area equipped with proper outdoor kitchen and outdoor sound system, all with direct views over the sea.
Indoors Kosta Ilios displays a great taste for design with a minimal touch; unique pieces of art and furniture are featured throughout in fascinating manner. Kosta Ilios is a must for guests who above all wish to find the perfect location and cherish the outdoor life, groups of friends or families will genuinely enjoy an experience meant to provide all comforts without having to leave the premises, although this is of course a possibility given the brief distance from Mykonos Town's bars and restaurants in addition to the most hip beaches on the island.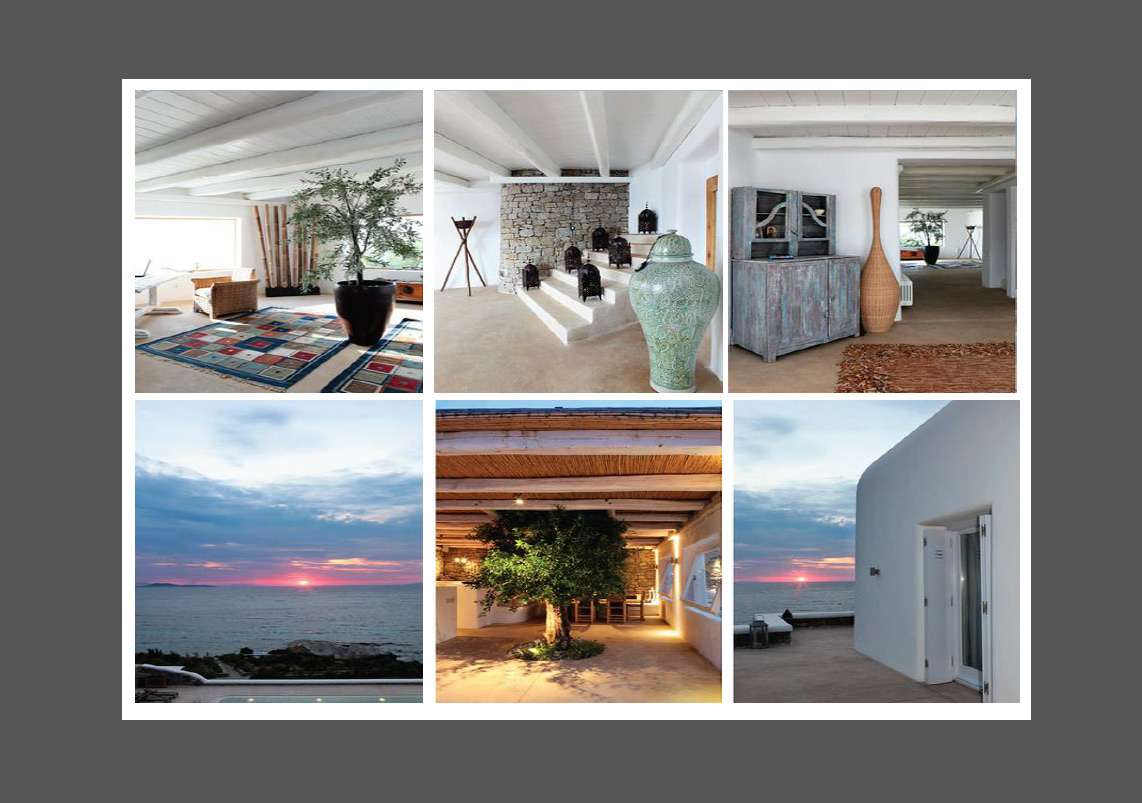 7 bedrooms

|

6 bathrooms

(5 en-suite)
LOCATION

Aleomandra, Mykonos 84600
DISTANCES
||

TOWN:
Mykonos Town 4km 
||

BEACH:
Private beach below, Ornos – Agios Ioannis 2km 
||

AIRPORT:
Mykonos (JMK) 5km